Recently refurbished by its new owners who decided to settle in Marrakech: Corinne, experienced beautician and Jean-Marc, globe-trotting photographer.
Dar Zouar, ideally located in a quiet area of the medina, is a true haven of peace just a stone's throw from the souks and the main tourist spots of the ochre city.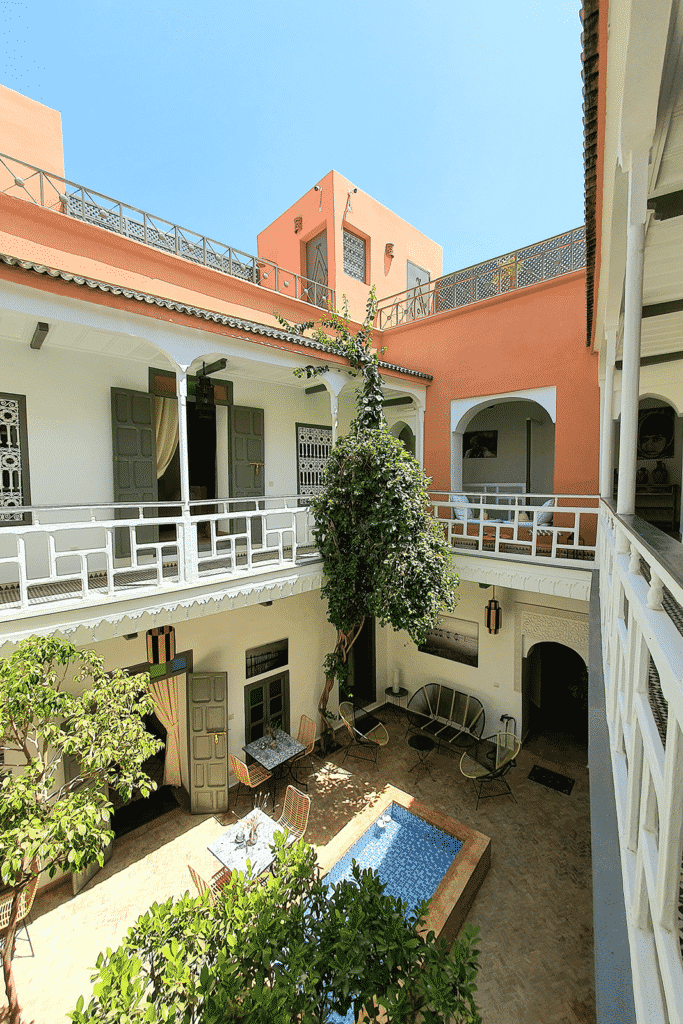 IN THE HEART OF OLD MEDINA
Just around Dar Zouar, you will find the mythical Dar Yacout Moroccan restaurant, as well as the excellent Dar Zellij or the fantastic Italian restaurant Limoni. The enchanting museum of Perfumes is but 300m away. You can wander through the souks up to the square of Spices through a 10min walk and continue your exploration, leisurely, up to the not to be missed Jeema Efna square.
Quiet and bathed by the sunlight, it is a traditional part of the Moroccan riads. It is designed so you can enjoy your breakfast or your meals by the pool while soothed by the light and the trees that contribute to an atmosphere of peace and wellness apt to rejuvenate you.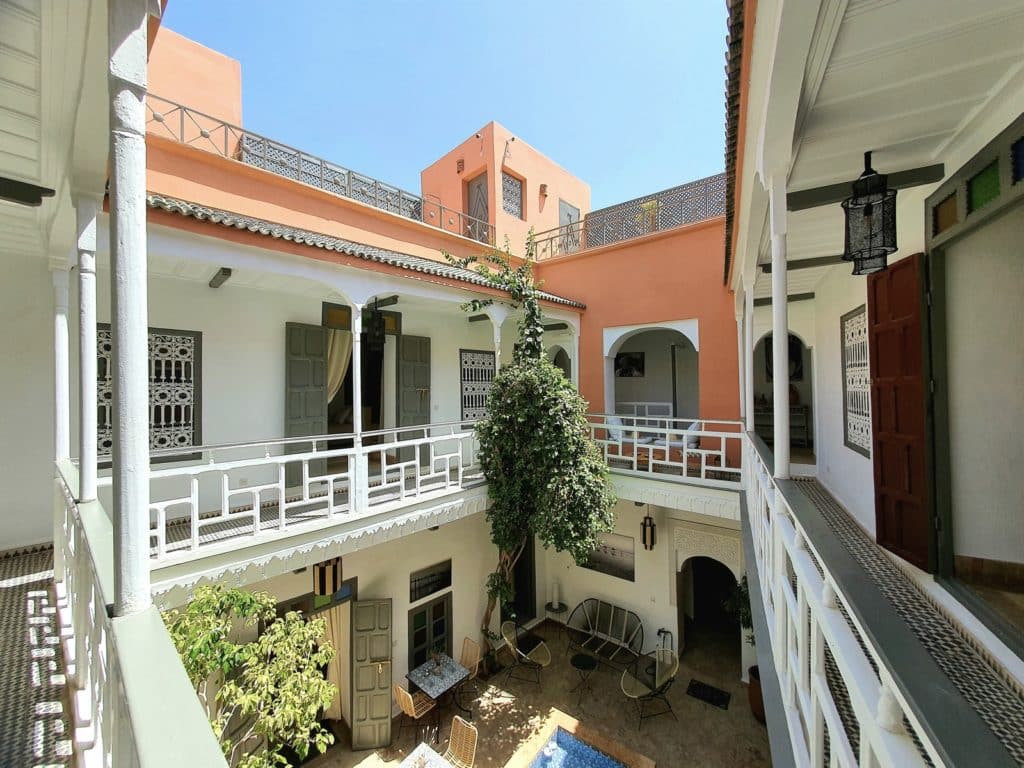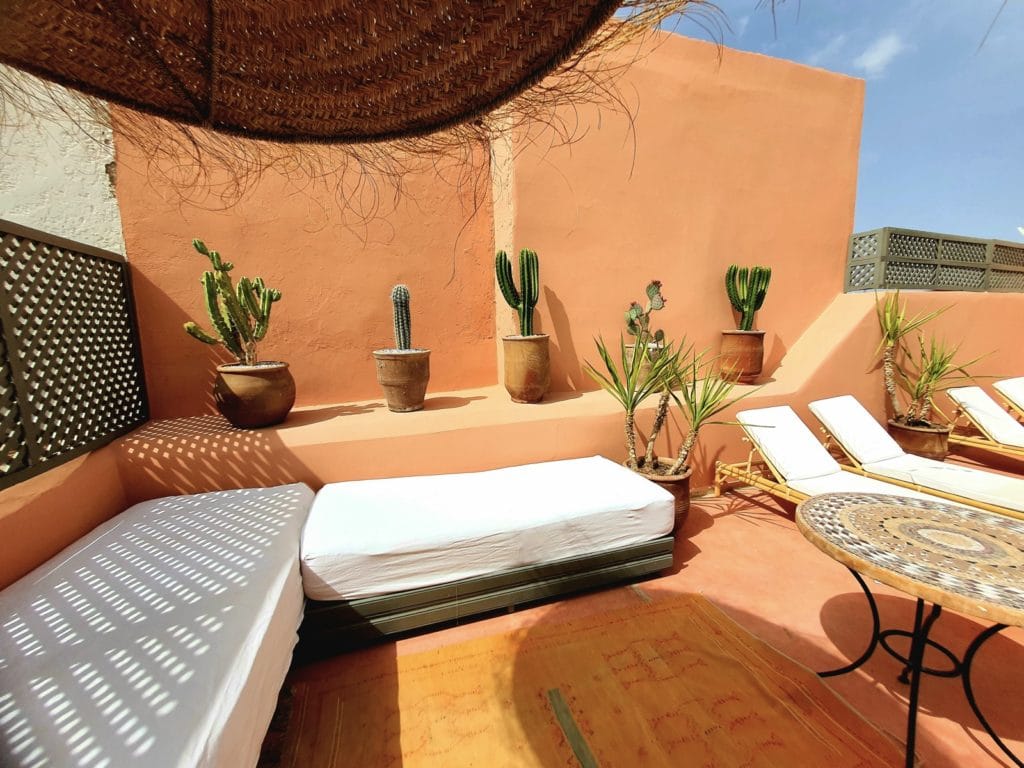 On the large and magnificent terrace, deck chairs await you so you can bask in the warm rays of the Moroccan sun, then take a refreshing shower and enjoy the dipping pool. Several lounges bathed in cool shadows under a pergola alongside a bar allow you to relax and sip the made on demand fresh fruit cocktails. A dining area completes the terrace where you can enjoy your evening meals while overlooking the city's roofs.
Opening onto the patio, the lounge provides a warm and cosy atmosphere for your meals in winter, in front of the fireplace. A part is dedicated to mental relaxation and offers reading material and boardgames, as well as an extensive documentation on Marrakech and Morocco.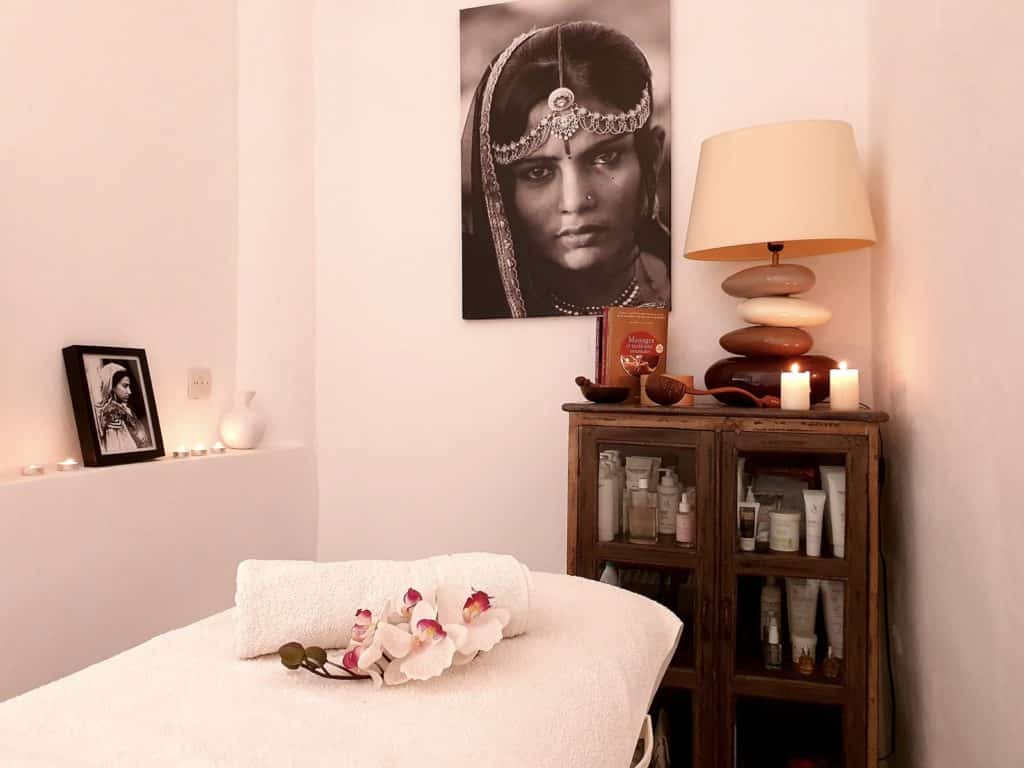 To relax after a day of visiting souks and museums of the ochre city Corinne, the landlady suggests various massages, body care and facial treatments. Before settling in Morocco, she had her own spa in France and has a long experience, having been trained to the Cinq Mondes techniques and protocols in Paris. All the products she uses are natural and have been carefully curated by herself.
DISCOVER OUR
ROOMS & SUITES
Dar Zouar offers 2 suites and 4 bedrooms which have recently been refurbished and renovated in a chic and cosy spirit. Each room has its own character and style, and all provide comfortable beds and top-quality linen.
Start your journey
Book your stay directly with best rates available